Vacuum Cleaner Advisor has just released its 2012 list of the Best Vacuum Cleaners under $200.  The list contains upright vacuums, canisters and stick vacs, and is designed to help shoppers quickly find the best buys.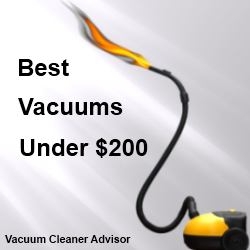 Seattle, WA,  September 06, 2012 –(
PR.com
)– Consumers today are definitely looking for the best bang for their buck. Vacuum Cleaner Advisor's "Best Vacuum Cleaners under $200" list provides just that. The 2012 list features 10 great machines available at reasonable prices, and the models in the spotlight may surprise people.
Manufacturers that made the cut include Hoover, Euro-Pro, Eureka, Electrolux, Bissell and Panasonic. Vacuums were chosen based on a combination of consumer ratings, features and lengths of warranty. The list is comprised of 5 upright vacuums, 4 stick vacs and 1 canister vacuum. Prices provided are estimates.
At the more affordable end of the spectrum lies the Eureka Quick Up 96JZ. This is a capable little stick vac that gets rave reviews from owners and also doubles as a handheld unit. It is extremely lightweight at just over 4 lbs and can be found online for about $50. Other featured stick vacs are more expensive and include the Euro-Pro Shark Freestyle ($140, 7.2 lbs, 1-year warranty), the Hoover Linx ($150, 7.3 lbs, 2-year warranty), and the Electrolux Ergorapido Ion ($145, 5+ lbs, 2-year warranty, converts to handheld). All the stick vacs on the
Best Vacuum Cleaners under $200
list are battery powered.
Five upright vacuums were selected for this year's list. The Hoover Commercial Elite is a work horse, even though it has a somewhat dated look and doesn't come with a lot of features. It gets fantastic ratings from owners and can be bought for only about $120. The Shark Navigator Lift Away Professional is lightweight, protected by a 5-year warranty, and includes a hand-carry, detachable vacuuming unit. It is generally just under $200. The less expensive Shark Navigator Lift Away is a little lighter than the Lift Away Professional and has a smaller dust canister, but it too performs well and elicits high praise from owners. It can usually be found in the neighborhood of $180. The remaining uprights – the Bissell 16N5F ($155) and the Panasonic MC-UL915 ($150) – both get great consumer ratings and have a host of useful features.
The final machine on the list is the only canister that made the cut. It is the Hoover Portapower CH3000, a compact, bagged vacuum with strong suction and a host of attachments. Often priced at just over $100, the Portapower is a commercial vacuum and is OSHA and UL approved. It can also be worn over the shoulder, and it doubles as a blower. It only carries a 1-year warranty, however.
You can see the full Best Vacuum Cleaners under $200 list and read detailed reviews on each and every machine at http://vacuum-cleaner-advisor.com. Vacuum Cleaner Advisor provides stick, canister and
upright vacuum reviews
for all the top brands.[amzn_multi_product_inline keyword='vacuum cleaner' count=5]